hotels and apartments
sport and leisure
localities
information

Your search
Gran Paradiso: Hotels, B&B, Residence and holiday apartments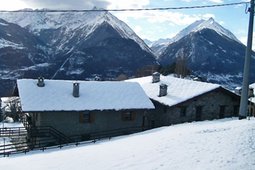 Saint-Pierre (Gran Paradiso)
For those who would like to spend their holiday in tranquillity and in contact with nature, the apartments "5 Laghi" are the right choice! The structure offers its guests hospitality and simplicity: five different apartments.
Aymavilles (Gran Paradiso)
The apartments have a wonderful view on the mountains of the Valle d'Aosta und are located in the middle of this region. They are a perfect starting point for your excursions through the valley; if you want to relax, you can enjoy the calm and the tranquility wandering...
Aymavilles (Gran Paradiso)
Albergo La Pineta is located in a charming spot just on the margins of the Gran Paradiso National Park. Surrounded by a coniferous forest, the hotel offers you a pleasant stay in a magical and tranquil ambience with a stunning view of the mountains of the Aosta Valley.
Lo Triolet is a winery with six apartments, two of which are located in the main house, dating back to 1656. The remaining four, which have recently been completed, are located in the adjacent building. All apartments are two-room apartments with the exception of the attic...
Saint-Pierre (Gran Paradiso)
Welcome at the farmhouse Verger Plein Soleil! The farmhouse is located 800m a.s.l., in the heart of Valle d'Aosta and with a wonderful view of the mountains of the National Park Gran Paradiso.