Holidays in the Aosta Valley
hotels and apartments
sport and leisure
localities
information
?

Your search
Gran Paradiso: Hotels, B&B, Residence and holiday apartments
Saint-Nicolas (Gran Paradiso)
Au coin du village means "at the corner of the village", here you can find this family-run B&B located in the municipality of Saint-Nicolas at 1230 meters above sea level.
Saint-Pierre (Gran Paradiso)
Welcome at the farmhouse Verger Plein Soleil! The farmhouse is located 800m a.s.l., in the heart of Valle d'Aosta and with a wonderful view of the mountains of the National Park Gran Paradiso.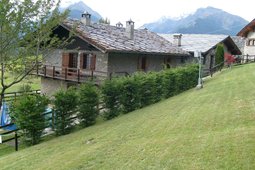 Saint-Pierre (Gran Paradiso)
For those who would like to spend their holiday in tranquillity and in contact with nature, the apartments "5 Laghi" are the right choice! The structure offers its guests hospitality and simplicity: five different apartments.
offers
25/08 - 14/09/2018

50€ per day
Characteristics
Aymavilles (Gran Paradiso)
Albergo La Pineta is located in a charming spot just on the margins of the Gran Paradiso National Park. Surrounded by a coniferous forest, the hotel offers you a pleasant stay in a magical and tranquil ambience with a stunning view of the mountains of the Aosta Valley.
offers
01/07 - 08/09/2018

from 45€ per day
Characteristics
Aymavilles (Gran Paradiso)
The apartments have a wonderful view on the mountains of the Valle d'Aosta und are located in the middle of this region. They are a perfect starting point for your excursions through the valley; if you want to relax, you can enjoy the calm and the tranquility wandering...
Aymavilles (Gran Paradiso)
La Gargote du Chevalier is located in Aymavilles, direction Cogne, just 1 km from the highway exit Aosta ovest. Thanks to its central position, you can easily reach Cogne, Courmayeur, La Thuile and Pila just in 30 minutes. Aosta is only 7 km from the hotel away.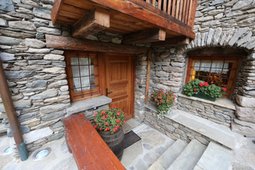 La Méizón de Felise is located in the old village of Grand Haury near Arvier, which has undergone almost complete renovation. La Méizón dates back to around 1700 and has always been the dwelling place of the Perron family.