Your search
Monte Bianco: Hotels, B&B, Residence and holiday apartments
Pré-Saint-Didier (Monte Bianco)
B&B Residence Checrouit, completely renovated and run personally by the owners since 1959, is located in a quiet position with a panoramic view of Mont Blanc. It is 250 meters far from the ski lifts, only 5 minutes walking distance from the pedestrian center of Courmayeur
An old farmhouse of the 19. century, finely renewed and furnished in typical alpine style, with 7 apartments equipped with all amenities. Le Petite Coeur Residence de Montagne is situated in a secret and calm area of a village only 15 km from Courmayeur, immersed in the nature.
offers
20/05 - 01/11/2020

from 70€ per day

20/05 - 05/04/2021

from 50€ for the entire period
Characteristics
Hotel Les Granges is a typical mountain building situated in the middle of the forest, near the road going to the San Carlo Colm, in a quiet and beautiful spot just 5 minutes from the village and the ski lifts, which also represents a perfect starting point for summer excursions.
offers
01/06 - 26/06/2020

from 125€ for 2 days

08/08 - 23/08/2020

497€ per week

01/06 - 30/09/2020

from 201€ for 3 days
Characteristics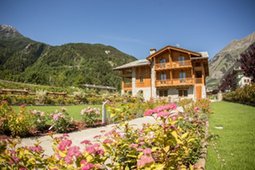 Les Montagnards Hotel is a building located just a short walk from the center of Morgex, the Valdigne's heart. The hotel has 12 welcoming rooms furnished in typical mountain style.
Maison des Sizes is not an old Aosta Valley's house of stone and wood, but it is a house where you create and live your own world and you live both happy and sad moments that life gives you.
offers
01/06 - 30/11/2020

from -10€ per day

01/06 - 30/11/2020

-10€ per day
Characteristics
Courmayeur (Monte Bianco)
Ancient Casino is an accommodation facility with holiday apartments situated in the main street of the village of Courmayeur, just opposite Le Jardin de l'Ange, where the most important cultural events take place. The house is characteristic building dating back to 1923.
The Trois Couronnes is located in a quiet area but in the center of the village, so everything is within walking distance: restaurants, bars, shops, the church, the pharmacy and the children playground, as well as paths perfect for quiet walks.