Your search
Valle Centrale: Hotels, B&B, Residence and holiday apartments
Saint-Vincent (Valle Centrale)
Bed & Breakfast Clapeon is the result of the renovation of an ancient building dating back to the year 1789. It is surrounded by the green fields of the Saint Vincent hill (700m) and offers three rooms and three apartments.
offers
01/06 - 02/06/2020

250€ per week
Characteristics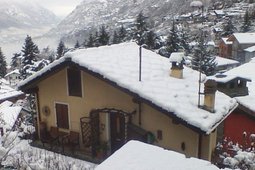 Saint-Vincent (Valle Centrale)
The B&B Il Torchio is located in an old village of the XVII century and is characterized by a rural and cozy atmophere. Its location in the middle of the Aosta Valley, on the first hill of Saint-Vincent, is a perfect starting point for trips and hiking tours.
Verrayes (Valle Centrale)
Nice accommodation in a stone house in the center of the valley at 650 m on the sea level, in Verrayes, a quiet village with a wonderful view in a very sunny position. Strategic location for a 360° holiday experience.
Champorcher (Valle Centrale)
raditional house built in wood and stone, with private garden. The apartment is on two floors. On the ground floor there is the living area with terrace and direct access to the garden. On the first floor you will find the bedrooms.
Fontainemore (Valle Centrale)
The B&B Mont Mars is the perfect place for families and for those who during their holidays want to feel as comfortable as at home. This B&B is suitable for a romantic holiday and for nature lovers. The breakfast at B&B Mont Mars is regarded as the most important meal of the day.
Saint-Vincent (Valle Centrale)
The Residence is located in Saint-Vincent, in the heart of the wonderful region Valle d'Aosta. The structure has fifteen apartments (studios and two-rooms apartments), which will surprise you everyday with a breathtaking view of the surrounding mountain.